How to (Correctly!) Unclog Your Pores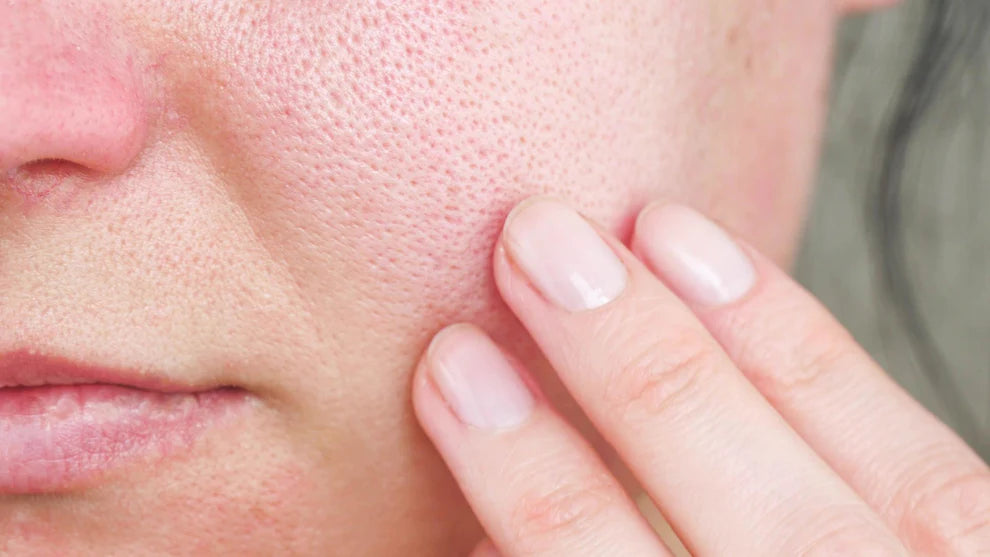 The popularity of airbrushing and Facetune has prompted plenty of us to look more closely at our skin—and in particular, our pores. But despite what Instagram tells you, poreless skin isn't a reality, and it's physically impossible to "close" your pores. If you've made peace with this but would still like a little help in reducing the appearance of pores, sloughing away dead skin cells should be your first port of call.
Everyone gets clogged pores. They come down to a number of factors, from your environment to what you're putting on your skin. If you're keen to know more, then you're in the right place, as we're about to hit you with some stellar skin geekery.
What is a pore?
Pores are tiny openings that surround your hair follicles and sweat glands. Contrary to what you might think (or see), we have pores covering our entire bodies.
There are two types of pore: the sweat pore and the oil pore. If you've ever been in an uncomfortable situation where you've sweated in places you didn't think were possible (no judgement here), you can thank your sweat pores for that. They cover your entire skin, but you won't have noticed them: they're so tiny that they're rarely visible to the human eye.
Oil pores are, as the name suggests, linked to our oil glands. These also feature over your whole skin surface, apart from on the palms of your hands and soles of your feet. Unlike a sweat pore, an oil pore can sometimes be large. That's when we spot them—particularly on our faces, where they're more concentrated.
Pores' main purpose is to assist liquids and gases as they move through your skin's surface. Your hair follicle acts like a vehicle, transporting oil from your sebaceous glands to the top layer of your skin to keep it supple and healthy. Your sweat pores, meanwhile, keep your body temperature in check by letting sweat travel from the sweat glands to the surface of the skin. As the sweat evaporates, it cools you down.
What are clogged pores?
The clue's in the name: clogged pores are the result of a buildup of bacteria and other gunk on the skin. Let's talk a little bit more about them.
What causes clogged pores?
A clogged pore comes about when excess oil, debris, sweat and impurities gather on your skin and end up hanging out inside the pore. It's not a hygiene issue—it would be very difficult to cleanse all of this dirt and oil away, unless you were planning to wash your face around the clock (not recommended!).
There are also factors aside from oil and debris that can clog pores. Hormonal shifts and stress can really get to your skin by ramping up sebum production, which causes more oiliness and potentially more problems.
What happens to my skin when I have clogged pores?
If you're not able to get rid of them pretty quickly, excess oil, bacteria and dead skin cells get trapped in your pores. This is extremely common. Blackheads and whiteheads are the most typical skin side-effects of clogged pores. Do you know anyone who hasn't had blackheads? We rest our case.
Unfortunately, a clogged pore can develop into something a bit more tricky to treat. More aggressive and inflamed types of acne pimples, ranging from papules to cysts, can result from a particularly bad skin clog.
Can makeup and skincare clog your pores?
If you're wearing a full face of makeup while reading this, we're sorry to break it to you, but your favorite foundation might be making things a bit worse. Same for that fancy moisturizer you just bought. And for your go-to makeup brushes and sponges, because it's easy for debris and other grimy bacteria buildup to end up there if you're not cleansing them regularly.
Everyone's skin is different, so what gives one person a bad acne breakout will be someone else's skincare holy grail.
Some people are lucky enough to know their skin and understand what its trigger ingredients are. Others (most of us) just need to know when to take it slow. Introduce new products into your routine one at a time, monitoring your skin for any negative reactions. If you want to prevent clogged pores, another thing worth looking into is only using products made with non-comedogenic ingredients.
What are comedogenic ingredients?
"Comedogenic" refers to how likely a certain skincare ingredient is to lead to clogged pores and their associated acne outbreaks. Comedogenic ingredients tend to be on the heavy, oily side (think things like lanolin, cocoa butter, and coconut oil). You'll particularly want to avoid them if you're prone to acne and an oily complexion.
Unfortunately, there isn't a master database of all of these ingredients, but there's a great starter list over at Acne.org.
Which skin type is more prone to clogged pores?
Frequently blemished, oily skin is most susceptible to clogged pores. This skin type generally goes hand in hand with excessive sebum production, which can lead to oil buildup and clogged pores. You're also more likely to have more noticeably large pores in this case.
How do you unclog pores?
If you're looking for ways to unclog your pores, there are several steps you can take. However, they all lead back to the same thing: building a solid skincare routine that works for you, and then sticking to it. Consistency (and good products) are key if you want to get rid of clogs for good.
Does squeezing clogged pores reduce their appearance?
Most of us have succumbed at least once to squeezing the blackheads on our nose. We're not judging—we get it, the temptation there is strong, and the instant gratification is so satisfying! However, speak to any dermatologist and they'll tell you that this method of removing blackheads isn't a wise choice for skin health.
Your facial skin is more delicate than you might think. When you attempt to squeeze out any dirt, you're actually stretching out your pores. And the worst thing? They won't just fall back into shape. Frequently tampering with your face is not the best form of skincare. If anything, it'll leave you with larger, more obvious pores.
While you should resist the urge to purge out impurities with your fingers, there are some products that are much kinder to your skin's delicate top layer. Below, we've listed some things that can help you on your unclogging mission.
Products that can reduce and prevent clogged pores
Salicylic acid
When it comes to exfoliation of dead skin cells, tightening your pores and clearing up acne-prone skin, you can't go wrong with salicylic acid, one of the most popular BHAs. As it's oil-soluble, it can get right into your pores and unclog them from a deeper level. SA is also a great choice if you're looking to get oil production (or, rather, overproduction) in check.
Our suggestion: Éclat Salicylic Acid Soap. Step up your cleansing game with our anti-acne soap. It features potent salicylic acid, coupled with fine almond grains, to gently exfoliate facial skin and purify pores. We've also added antibacterial grapeseed oil, buffered sulfur and rose water, which counter excessive oil production by absorbing sebum and soothing the skin barrier.
Charcoal masks
Sometimes, the best skincare solutions come from nature. Charcoal masks are a classic hack for unclogging pores and fighting pimples. Charcoal works just like a magnet, sucking gunk out of stubborn pores. These masks are suitable for all skin types, but they can have a drying effect if they're used too frequently. We recommend using them once a week. They're perfect Sunday-night treats.
Our suggestion: Éclat Charcoal Mask. Our signature blend of four clays (steam-activated bamboo charcoal, Moroccan lava, French Montmorillonite, and Chinese kaolin) balances sebum production, but is gentle enough to not strip skin or leave it feeling dry after treatments.
Pore strips
You probably first used pore strips in your teens—for us, at least, they bring back a lot of memories. It may have been a while, but this beauty trick remains just as satisfying (or gross? You decide.). If you want to get really deep into your pores on your nose, you can't go wrong with a good old pore strip.
Our suggestion: Éclat Blackhead Pore Strips. While other strips can be harsh and drying, ours feature skin-soothing ingredients like peach persica and witch hazel. There's also green tea in the mix to reduce oiliness. Each pore strip is powered by activated charcoal to draw out deep-set impurities.
Retinol/retinoids
Retinoids, including popular retinol, are a tried-and-true treatment for skin that's prone to congestion, buildups of dead skin cells, acne, dullness... you name it, and retinol can probably treat it. While it doesn't actively unclog pores like AHA or BHA acid treatments might, it does help to generate healthier, less clog-prone skin by speeding up cell turnover.
Our suggestion: Éclat Retinol Serum. Our formula features an optimal concentration of pure retinol (2.5%), along with potent antioxidants like vitamin C, green tea, and witch hazel to encourage cell turnover. It's a strong choice for fighting the dead skin cells that cause acne.
Blackhead removal kit
If you're not quite ready to rule out manual extractions from your skincare rotation altogether, try using specialist tools instead of your fingers. They're kinder on your facial skin and more hygienic than your hands (which can spread acne-causing bacteria over your face if you're not careful), and they're designed to remove sebum and grime buildup without damaging your skin's delicate top layer.
Our suggestion: Éclat Blackhead Removal Kit. With 5 double-headed tools in various sizes made from medical-grade stainless steel, our kit is perfect for targeting blackheads like a professional, even in tricky-to-reach places like the corners of your nose. They're presented in a foam-fitted hard case for hygienic, safe storage.
Which skincare product are you going to try against oversized pores and blackheads? We hope you've discovered the perfect treatment for you in this piece, but feel free to reach out to us if not. One of our beauty experts will be happy to help you to build your dream routine!

Select your region