How to Use Salicylic Acid to Effectively Treat Acne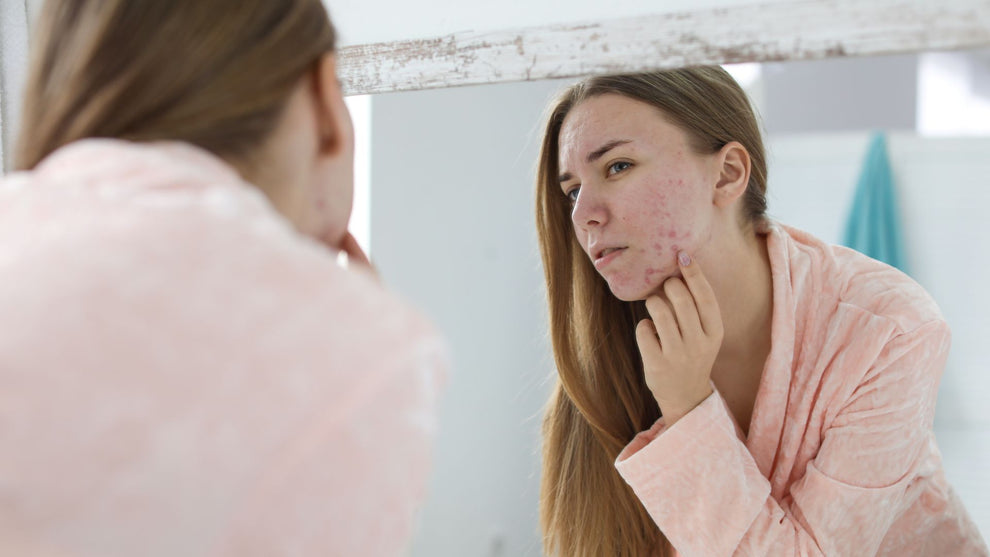 Salicylic acid: we've all heard of it, and if you have acne-prone skin, there's no doubt that you have a product or two in your beauty cabinet featuring this acne-fighting ingredient. You know it's good for breakouts and oily skin, but what actually is salicylic acid?
We're about to break down the what, how, why and where of salicylic acid, from how to slot it into your current routine to how to use it, and which skin types should avoid this potent ingredient to treat acne.
Salicylic acid...what is it?
Salicylic acid is a type of skincare acid (duh!) that falls into the category of BHAs, or beta hydroxy acids.
BHAs
Beta hydroxy acid (BHA) falls into the category of skincare direct acids. BHAs are renowned in the skincare game for their exfoliating and skin-clearing effects.
They have oil-soluble molecules, meaning they can dive into skin's deeper layers to fight common causes of acne, including sebum production, bacteria buildup, and excess oil. With this in mind, it's no wonder salicylic acid is a potent acne-fighting treatment.
Where does salicylic acid come from?
Synthetic forms of salicylic acid can be produced in a lab, but its most popular form comes from nature—it's derived from willow bark. It can also be found in a few fruits and veggies, including radishes, olives, green peppers, tomatoes and mushrooms.
The salicylic acid you find in your skincare products is usually extracted from willow bark and turned into the potent active ingredient featured on your bathroom skincare shelf.
We always favor natural derivates in our products, so every time you see salicylic acid in one of our formulas, you can rest assured that it's the willow-derived form, just as nature intended.
What's salicylic acid good for?
Salicylic acid has many skin benefits—from sloughing away dead skin to nourishing dry patches, just to name a couple. We've compiled a list of some of its best benefits for skin:
Clears and unclogs pores
Salicylic acid's ability to exfoliate both on the skin's surface and deep into the pore lining makes it a top choice for busting breakouts. Since clogged pores and excess sebum can actually contribute to acne, tackling these root problems could help you better control breakouts.
Reduces inflammation and calms redness
Anti-inflammatory and antibacterial qualities mean that salicylic acid soothes blemish-prone skin while removing common acne triggers.
Controls sebum production
With its ability to penetrate pores and exfoliate dead skin, salicylic acid helps to control excess oil production and keep your complexion matte.
Obliterates blackheads and whiteheads
For hard-working blemish blitzing, use salicylic acid. Its antibacterial properties can stop the production of acne-causing microbes and prevent new breakouts from occurring.
Which skin types can salicylic acid help?
We know all we've been talking about is salicylic acid and its use on acne-prone skin but, in reality, any skin type can benefit from this BHA.
Skin type: Dry
If you suffer from dry, dehydrated skin, salicylic acid can help to strengthen your skin barrier. What does this mean for dry skin? A strong barrier is a healthy one, so your skin will be able to retain moisture for longer. Who doesn't want better skin resilience and boosted hydration?
Skin type: Dull
With its ability to remove dead skin cells and provide other exfoliating benefits, salicylic acid could be your ticket to a brighter complexion. If you have dull skin, slotting a toner with salicylic acid into your routine can keep skin bright, and also keep pores free from complexion-stifling grime and oil.
Skin type: Sensitive
Pimples, acne and breakouts commonly occur on skin that's on the sensitive side. Salicylic acid, when used in the right percentage, is gentle enough to be used on sensitive skin.
A salicylic acid product containing soothing ingredients like aloe vera or green tea can reduce redness. Plus, it'll calm your complexion overall, and encourage wound healing.
What type of salicylic acid products should I use?
Toners
Step up your exfoliation game by using a toner with salicylic acid.
If you suffer from sensitive skin and are prone to irritation, salicylic acid's anti-inflammatory properties can help to reduce redness and excess oil. This makes it ideal for use in the morning if you intend to wear makeup, as it'll cleanse your skin and get it prepped for the day ahead.
Cleansers
Give your skin a solid cleanse by starting (and ending) your day with a salicylic acid-based cleanser. Using salicylic acid in cleanser form is one of our favorite ways to utilize this potent ingredient.
Not only will a cleanser clear any grime, dirt, and oil from skin's lower layers: its active compounds and cleansing properties (when used at the optimal percentage) can also rebalance your complexion and strengthen the skin's lipid barrier.
Targeted treatments
Salicylic acid serums aren't for the faint of heart, and they should be approached with care if you have sensitive or irritation-prone skin.
While the results of such serums are pretty wow-worthy, it's recommended that you consult a dermatologist before using them—or at least do your due diligence when it comes to researching the percentage of salicylic acid in skincare serums, and to finding the right one for your skin. A serum can do wonders if you want to treat excess oil and blackheads but, if used incorrectly, it can cause an inflammatory reaction in the skin. Ouch! So tread carefully.
Soaps
Pimples can occur anywhere on the body. Sometimes, something with a bit more oomph is needed to clear away those pesky skin cells and blackheads.
A soap bar with salicylic acid will do just that. Plus, its handy form makes it perfect for clearing clogged pores and sloughing away dead skin cells from hard-to-reach areas, such as the back and shoulders.
How to use salicylic acid cleansers
Cleansers with salicylic acid are your strongest weapon for fighting acne and clearing your skin. Using salicylic acid cleanser accurately is key. It might sound simple enough, right? Just wash your face with a salicylic acid and bam, done!
Well, it turns out there's actually a bit more to it than that...
Let it sit
While the norm with face wash is to rub it in and rinse it off immediately, you'll want to take it slower when using a salicylic acid cleanser.
In order to let the salicylic acid work its magic on your skin, you need to give it a little extra time. For sure, rinsing off your salicylic acid cleanser straight away will ensure that your skin is clear of the day's grime, dirt and bacteria—but it won't do anything to help your acne.
Instead, next time you use a salicylic acid cleanser, let it sit on the skin for up to 1 minute. This will allow the salicylic acid to sink into your skin properly.
Just a small change like this to your skin care routine can result in a positive change to your complexion!
Don't scrub too hard
When using a salicylic acid cleanser, make sure that you don't scrub, scratch or irritate your skin when cleansing.
Remember, salicylic acid is a chemical exfoliant, so using a physical exfoliant like a washcloth can create micro-tears and irritate skin to a point where you're causing more harm than good.
Make sure to avoid any physical exfoliant during cleansing: instead, use your hands and tips of the fingers to gently massage the cleanser into skin. Throw out that washcloth—your skin will thank you for it!
When to use a salicylic acid cleanser
Using salicylic acid doesn't have to be complicated, especially when your routine features a salicylic acid cleanser. Salicylic acid cleanser can be used daily. We recommend using one both morning and night as one of your main targeted acne treatments.
Morning
Using salicylic acid cleanser in the morning can help to clear any clogged pores and prepare skin for the rest of your morning skincare routine. If you're prone to irritation, simply washing your face with cold water can help to close your pores and gently "cleanse" skin, instead, but it won't be as effective as using a cleanser.
Nighttime
Even if you don't wear makeup, washing your face at night is essential. If your face is already makeup and SPF-free, you can go straight in and wash oily skin with a salicylic acid cleanser of your choice. If you're wearing sunscreen or any cosmetics, however, we recommend double cleansing. Try using a gentle cleanser first to remove your makeup (we love cleansing balms and oils for this), or grab a micellar water and some reusable makeup-removing pads. Once you're truly bare-faced, use a salicylic acid cleanser as your second, extra-purifying cleanse.
Éclat salicylic acid products
At Éclat, we have a range of vegan products for all of your acne-fighting, pore-clearing and skin-rejuvenating needs! Now you've learned about all of the benefits of salicylic acid, why not check out some of our products containing this potent, multitasking ingredient?
Éclat Salicylic Acid Cleanser: This face wash is a treat for your everyday skin care routine. Unlike other face washes, which can be drying, this one contains a gentle, plant-based cleansing agent that doesn't cause irritation or leave skin feeling "stripped". Along with quick-acting nano salicylic acid, it also features niacinamide and green tea to calm inflammation, tackle breakouts, and balance out oil production.
Éclat Salicylic Acid Soap: This salicylic acid cleanser soap can be used on the face and body and features powerful ingredients alongside salicylic acid, including antibacterial grapeseed oil and buffered sulphur, which remove potential acne triggers and absorb excess sebum. This face wash also includes natural, nourishing almond and olive oils to keep any dry skin patches hydrated.
Éclat Acne Cream: This moisturizer is powered by SaliClear complex, featuring nano-sized salicylic acid particles that penetrate past the epidermis to clear clogged pores and prevent new blemish formation.
Here's to many good-skin days ahead! 

Select your region